Financing Your Bryant Purchase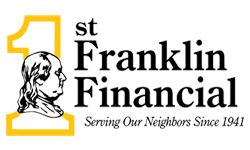 1ˢᵗ Franklin Financial Corporation is in the business of helping our friends and neighbors make their way through life with the dignity and respect they deserve. Since 1941, we have worked in local communities to provide financial solutions for our customers and their families. For over 75 years, we have been helping people "Do Life." This may include helping with the expenses that come with a wedding, a new family addition, the remodeling of a home or some unexpected expense. While "doing life" can cost money, we are always here to help.
At 1ˢᵗ Franklin Financial, we offer loans anywhere from $300 – $15,000 so you can enjoy that vacation, get back on track, get ahead, and continue to do what you like best in life!
---

You can use a personal loan from Springleaf Financial Services for a wide range of purposes, including:
Easy and secure online application
No application fee
Any size loan to meet your needs
Fast response - usually in one hour or less
Secured or unsecured loans
Apply Now!
Please contact us to find out which Springleaf financing options are available to you.
---

For over 39 years, we have treated our customers with the utmost respect. With 105 offices, Pioneer Credit has provided over 87,000 customers with the perfect solution to their financial needs. We would like the opportunity to show you what makes Pioneer Credit a different kind of financial company.
Our loyal customers are the reason for our continued success. Chances are you have a neighbor, family member, or friend that is a Pioneer customer. Just ask them about our great service and knowledgeable staff. The next time you want cash, give Pioneer the opportunity to serve you!